SAP add-on solutions

Data Management

Data Archiving

Data Analysis

Data Management

Data Management

Data Analysis
Previous
Next
SAP add-on solutions for the Information Lifecycle Management in the areas data archiving, data extraction, data storage, and system decommissioning. Users get a seamless and fast access to all data. PBS provides nearline storage solutions for SAP BW and ERP to process very large data volumes with state-of-the-art column-oriented database technology from IBM and SAP.
Mastering EU-GDPR regulations – Intelligent Implementation with SAP ILM and PBS archive solutions
The European Commission has strengthened the rights of consumers with the "Right to be forgotten". Through the entry into force of the EU General Data Protection Regulation (EU-GDPR) a permanently unrestricted processing of digital information with reference to individuals is regulated and restricted. The transitional period has expired on 25.05.2018, all data processing systems that hold and process personal data must delete this data once it no longer fulfills the purpose for which it was originally collected and/or subject this data to massive access restrictions. -> More information
PBS add-on solutions are standard software that can be seamlessly integrated in your SAP system. Nevertheless, projects concerning data archiving, data management, and data analysis require careful planning.
Our long-term partners who are highly familiar with the PBS products can provide you excellent support for these projects.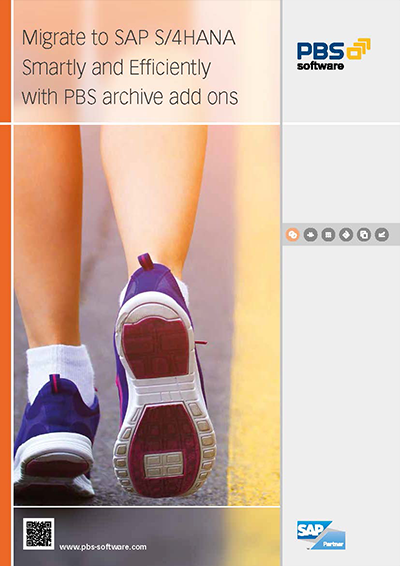 Migrate to S/4 HANA smartly and efficiently with PBS archive add ons
SAP S/4 HANA provides a state-of-the-art ERP suite based on in-memory technology and designed to meet the needs of digital transformation. For SAP customers, the associated conversion to SAP S/4 HANA provides technological and economic challenges that should not be underestimated. Successful migrations to SAP S/4 HANA call for sophisticated data management solutions that minimizes the time needed for technical migration while supporting smooth, trouble-free transfer of all relevant ERP data.
This is where PBS archive add ons contribute significantly to minimizing costs by ensuring seamless, migration-free access to archived application data in both the ERP and SAP S/4 HANA environment.